David Guetta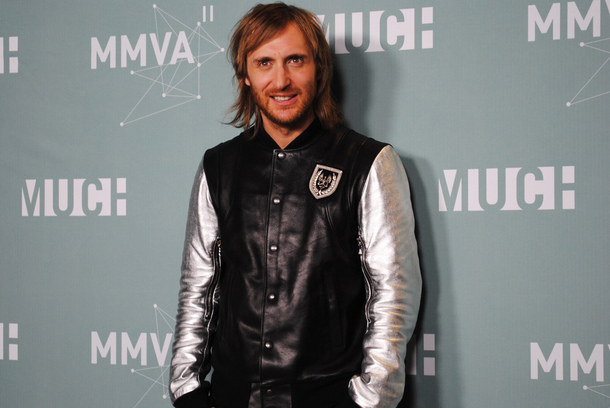 source: wikipedia
Biography
Early life
David Guetta was born in Paris on 7th November 1967. He is a french DJ and music producer.
His father is of Moroccan descent, his mother of belgian descent, but he declares himself to be french. As a law student he began his career at the age of 17 in the Broad Club in Paris.
As he recounts, the DJs at that time were hidden from the public, they were anonymus. Once when he went to London, he saw, that the electro DJs are in the center of attention. He then invested all his savings into hard electro music dics, and contracted the club owner, where he played, that he increases his fee but in return takes care of the promotion and the program on his own.
He sympathizes with Kien who also works in Broad Club and made the early acid house parties. As the Board Club becomes too small, Kien launches Unity at the Rex Club with Guatte and Didier Sinclair amongst 8 DJs.
His first television appearance took place on FR3 January 8, 1991 in an entertainment show, called La Classe.
David and Kien launch a new party series at the old Central Queen Club. This series is calles The Princess of the World.
In the early 1990s, Kien and David Guetta are the artistic direction of the new club Folies Pigalle, a former cabaret in Pigalle. The press became interested in the buzz created in the Pigalle cabaret, a place known for prostitution, turned into a dancefloor. The Pigalle district is gradually becoming flashy and arty, dedicated to music. David Guetta invites guest DJs such as Little Louie Vega, David Morales, DJ Pierre and Roger Sanchez.
In 1994 his wife, Cathy, who was a waitress at that time, also joins David's team to help in the Club Bataclan. They used this place as a springboard. David becomes director of Pink Paradise in Paris. In 1996, he began organizing parties in Berlin.
Music producer
In 2001, David Guetta along with Joachim Garraud founded Gum Productions. Also in the same year he released his first single "Just a Little More Love", featuring American singer Chris Willis. Willis was vacationing in France when he met Guetta.
2002 is the turning point in his life. He sells all his interests in clubs to launch out as a producer. As he one said, one day he realized, that he didn't have fun any more. It was not his profession to deal with clogged toilets and convocations to the police station for brawls.
In July 2003 Guetta released his debut album Just a Little More Love on Virgin Records. The album has sold over 300,000 copies. There are 4 singles made from this album: Just a Little More Love (featuring Chris Willis) Love Don't Let Me Go (featuring Chris Willis), People Come People Go (featuring Chris Willis) and Give Me Something (featuring Barbara Tucker)
In 2003 David released a compilation, Fuck Me I'm Famous, named after his party in Ibiza. It included "Just for One Day (Heroes)". Later in his career, Guetta continued recording compilations under that title.
In September 2004 Guetta released his second album, Guetta Blaster. He published 4 singles from this album: Money (featuring Chris Willis and Moné), Stay (featuring Chris Willis), The World is Mine (featuring JD Davis) and In Love with Myself (featuring JD Davis).
In July 2007 David released his third studio album, Pop Life. According to EMI, the album has sold a more than 530,000 copies worldwide. The lead single Love Is Gone (featuring Chris Willis) reached Number 1 on the American Dance Charts and charted on the Billboard Hot 100. The other singles from this album are: Baby When the Light (featuring Cozi), Delirious (featuring Tara McDonald), Tomorrow Can Wait (featuring Chris Willis vs. El Tocadisco) and Everytime We Touch (featuring Chris Willis, Steve Angello and Sebastian Ingrosso).
In August 2009 David Guetta released his fourth studio album, One Love. Singles from this album are: When Love Takes Over (featuring Kelly Rowland), Sexy Bitch (featuring Akon), One Love (featuring Estelle), Memories (featuring Kid Cudi), Gettin' Over (featuring Chris Willis) and Who's That Chick? (featuring Rihanna).
In November 2010, after conflicts over whether or not an album re-issue should go ahead, One More Love was released. The lead single Who's That Chick? (featuring Rihanna) was released a few weeks earlier.
In August 2011 the fith studio album from David Guetta was released, Nothing But the Beat. He released 4 singles from it until today: Where Them Girls At (featuring Flo Rida and Nicki Minaj), Little Bad Girl (featuring Taio Cruz and Ludacris), Without You (featuring Usher) and Repeat (featuring Jessie J).
Private life
David doesn't let people know too much about hist private life. We only know, that he is married to Cathy Guetta. They have two children together, a boy and a girl. Tim Elvis Eric was born in 2004 and Angie was born in 2007.
Discography
For an almost complete discography please see our Discography site.